Not quite as colorful as the last one. Sorry for anyone seeing this twice. And, yes, I know it needs editing. I just don't have the program I need.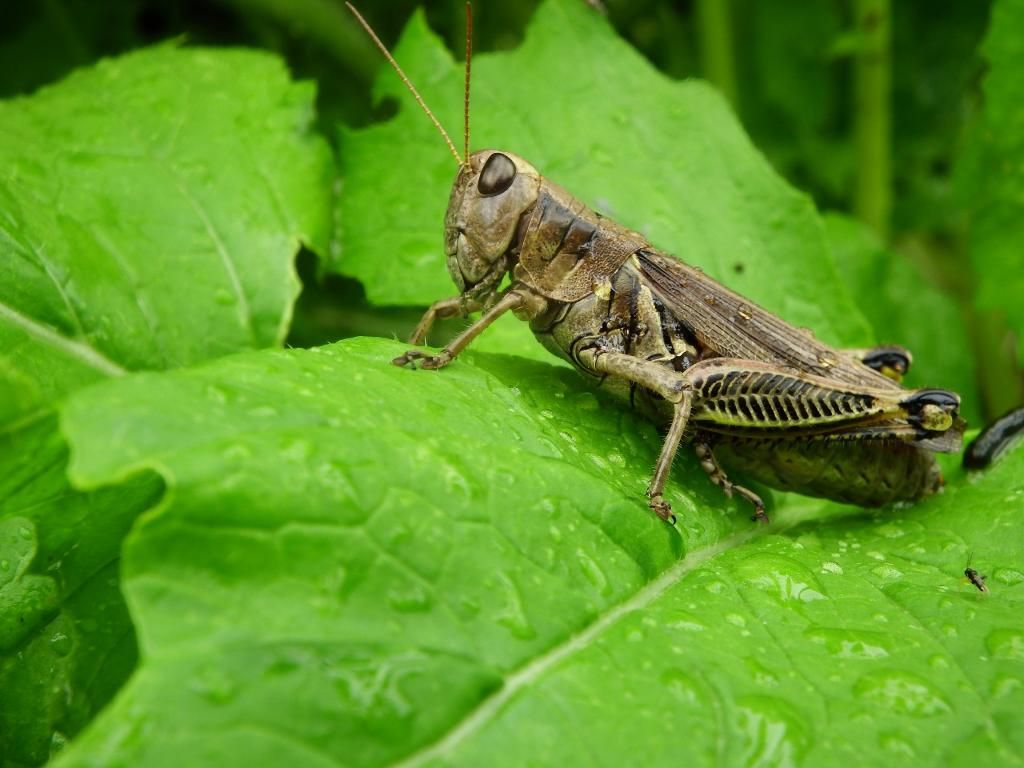 Related posts:
*
Mr. Photogenic
*
Ag Center Shots
This recipe has been adapted. A nice neutral soup made even better with a heap of shredded cheddar, crisp bacon crumbles and diced green onions.
Credit: Classy Cooking
1/2 cup butter
1 (2 1/2 to 3 pound) head of cauliflower, large stem removed and discarded, florets cut into small pieces
2 carrots, diced
2 stalks celery, diced
1 medium onion, diced
1/3 cup all-purpose flour
4 cloves garlic, minced
4 cups low-sodium chicken broth
1 bay leaf
Italian seasonings
Salt and freshly ground pepper, to taste
1 cup milk
1 cup heavy cream
For serving:
6 slices thick-cut bacon, cooked until crisp and crumbled
Shredded cheddar cheese
2 green onions, chopped
Melt butter in a large pot over medium heat. Add cauliflower, carrots, celery and onion. I do this in batches and allow the cauliflower take on a little color before adding the other vegetables in. Season this lightly and sauté until vegetables become tender. Add in flour and garlic, stirring frequently. Slowly add in chicken broth, stir in bay leaf, a good dash of Italian seasonings and additional salt and pepper. Bring this to a boil, reduce heat and let the soup remain at a simmer, stirring occasionally until vegetables are at desired tenderness. At this point, I remove it from heat and allow it to cool briefly. Take out the bay leaf. Then I process it in batches in a blender until smooth. After that, I'll return it to the pot, add in milk and cream and heat it through. Serve warmed soup with bacon crumbles (if desired), cheddar cheese and green onions.
Our favorite meatless soups/stews/bisques:
*
Summer White Corn Soup
*
Roasted Cauliflower and Cheddar Soup
*
Potato and Leek Soup
*
Roasted Tomato Bisque
*
Curried Butternut Squash and Apple Soup
*
Minestrone
*
Tex-Mex Butternut Bisque
*
Black Bean Soup
*
Easiest Ever Broccoli Cheese Soup
*
Roasted Red Pepper Soup
*
Creamy Tomato Tortellini Soup
*
Chunky Tomato Bisque with Roasted Corn
*
Thanksgiving Butternut Squash Soup
Other favorite meat-inclusive soups/stews/bisques/chowders/cassoulets/g
umbos:
*
Corn Chowder
*
Creamy Onion Soup
*
Thai Chicken Soup
*
She Crab Soup
*
Chicken Vegetable Soup
*
Italian Wedding Soup
*
Chicken Tortilla Soup
*
Beef Stew
*
French Onion Soup
*
Creamy Wild Rice and Chicken Soup
*
Cream of Potato and Ham Soup
*
Chicken Enchilada Soup
*
Vegetable Beef Barley Soup
*
Chicken, Ham and Vegetable Stew
*
Sausage and White Bean Cassoulet
*
Chicken Andouille Gumbo
Favorite shot of the day. I think I had three favorites for him. SOOC.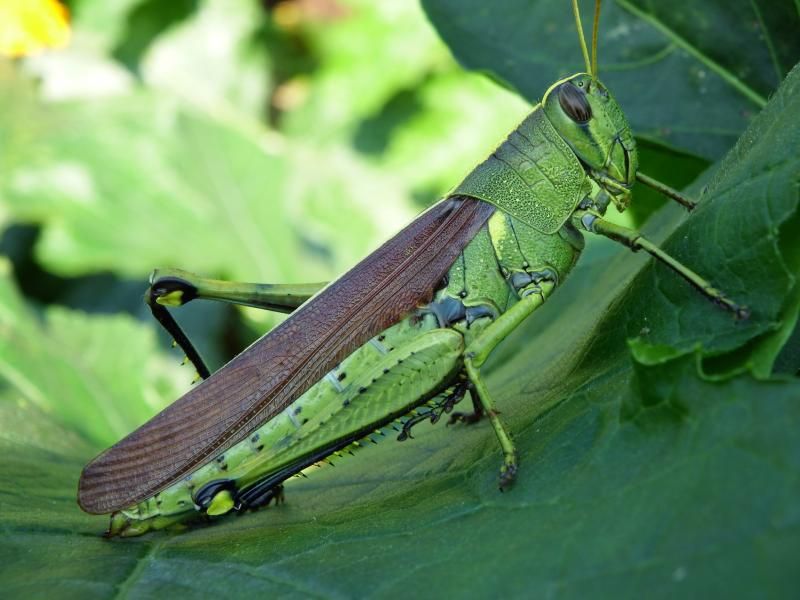 Related posts:
*
Ag Center Shots
Took this to a brunch yesterday morning along with our holiday breakfast casserole. We had such a spread--the girls really outdid themselves--that half of the cake still remained when I gathered up my stuff to go home! Oh, ya'll, it is good though. Really, really good. Not cloyingly sweet or overly moist as some pineapple upside downs are. The addition of whipped egg whites gives the batter some loft, and the sour cream lends a gentle tang, while the inversion of the pan tops the finished cake with caramelized goodness.
I should note that I used a professional cake pan rather than my cast iron skillet. I'm guessing it was a 12", although I'd need to look at them nested or measure it just to be sure. Although I love my cast iron (every good Southern girl should have one), it had recently been used and it was easier for me to grab something else instead. And I subbed walnuts for pecans, because that's what I had on hand. And omitted the brandy, using a smidge more vanilla. D is
loving
breakfast this week!
Need more apple recipes?
Click here
and scroll down to the bottom for our apple index.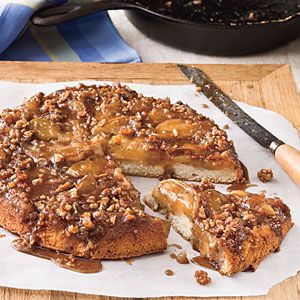 Credit: Jennifer Davick
1/2 cup chopped pecans
2 large Granny Smith apples, peeled and cut into slices (no more than 1/2" thick)
1 TBSP lemon juice
2 tsp real vanilla extract, divided
3/4 tsp ground cinnamon, divided
1/2 cup real unsalted butter, softened and divided
2 tsp brandy
1 cup firmly packed light brown sugar
3/4 cup granulated sugar, divided
2 large eggs, separated
3/4 cup milk
1/2 cup sour cream
2 cups all-purpose baking mix (Bisquick Original All-Purpose)
1/8 teaspoon ground nutmeg
Preheat oven to 350°. Bake pecans in a single layer in a shallow pan 8 to 10 minutes or until toasted and fragrant, stirring after 5 minutes. Remove from oven and increase oven temperature to 375°.
Toss apple slices with lemon juice, 1 tsp. vanilla extract, and 1/2 tsp. cinnamon. Melt 1/4 cup butter in a 10-inch cast-iron skillet over low heat. Remove from heat; stir in brandy. Sprinkle with brown sugar. Sprinkle pecans over brown sugar mixture. Arrange apples in 2 concentric circles over pecans. (I layered each one slightly, cut them about a 1/4" thick).
Beat 1/2 cup granulated sugar and remaining 1/4 cup butter at medium speed with an electric mixer until blended. Add egg yolks, 1 at a time, beating just until blended after each addition. Add milk, sour cream, and remaining 1 tsp. vanilla, beating just until blended.
In a separate bowl, whisk together baking mix, nutmeg, and remaining 1/4 tsp. cinnamon in a medium bowl. Add nutmeg mixture to butter mixture, beating just until blended. Beat egg whites in another medium bowl at high speed until soft peaks form. Gradually beat in remaining 1/4 cup granulated sugar until stiff peaks form. Gently fold into batter. Spread batter over apples in skillet.
Bake at 375° for 50 to 54 minutes or until a wooden pick inserted halfway into center of cake comes out clean. My time was slightly different because of the pan, but the top of the cake was golden brown. Cool in skillet on a wire rack for a minimum of 10 minutes. Carefully run a knife around edge of cake to loosen. Invert cake onto wire rack (I use a gridded one, rather than a traditional cookie rack for delicate things like this), taking care to use oven mitts so you aren't burned. Be sure to scoop out any topping that sticks to the skillet and put it on the cake.
Note: To get a true reading of doneness, insert the wooden pick only halfway through the cake when testing.
Favorite shot while there *points to first one*. I like shooting a garden without always feeling like I have to focus on flowers. There are so many elements to be found...be it the repetition of slats in an arbor, dew drops clinging to a petal, the patina of a pot or something else.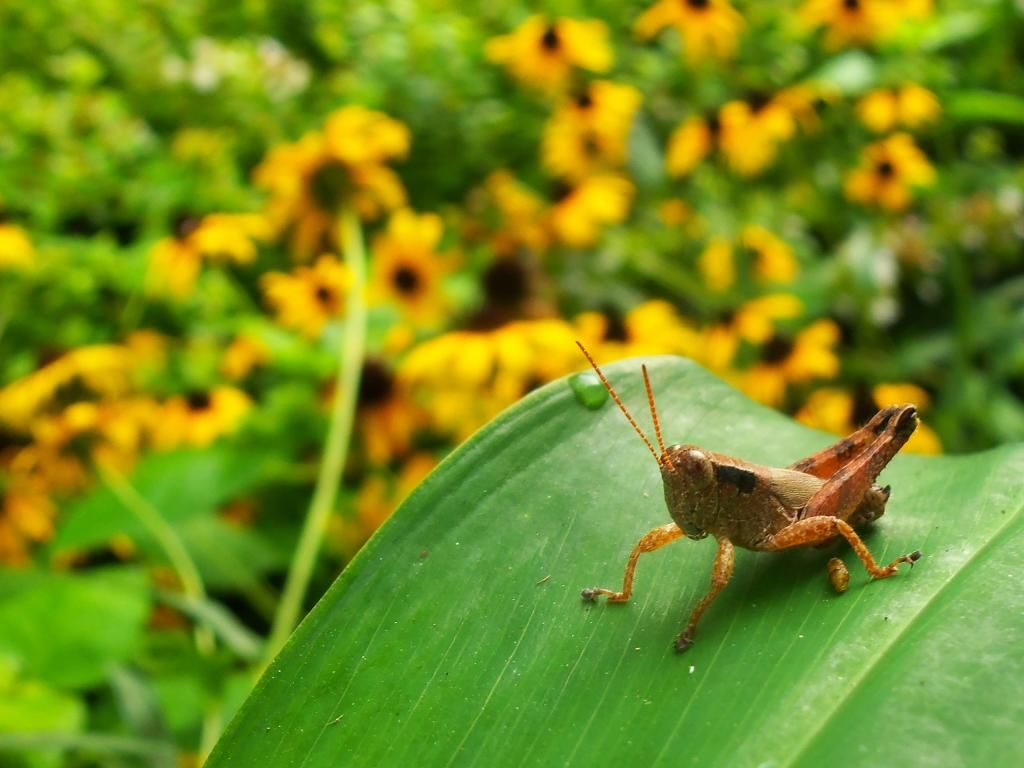 Another Buckeye.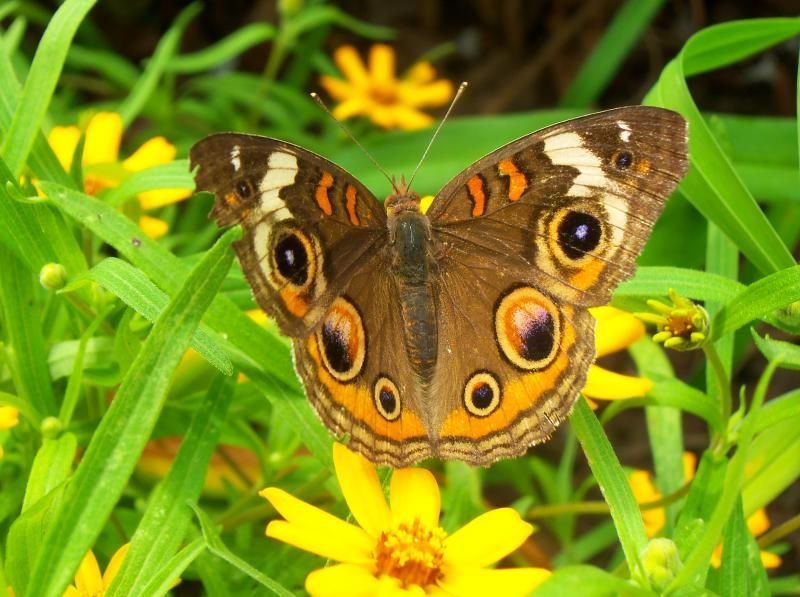 Had a meeting this morning and thought our group might needed a little pick-me-up, so I brought this *points down*. The cake itself is homey and moist. It's studded with diced Granny Smiths and toasted pecans. Once guests cut into it, they'll notice a surprise ribbon of cheesecake running through each slice. The frosting is sugary but provides a nice compliment to the cake. Recipe is courtesy of Robert Kindred from Seagoville, Texas.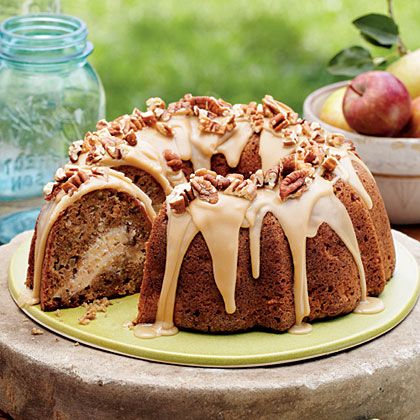 Credit: Luca Trovato
CREAM CHEESE FILLING
1 (8-oz.) package cream cheese, softened
1/4 cup butter, softened
1/2 cup granulated sugar
1 large egg
2 TBSP all-purpose flour
1 tsp vanilla extract
APPLE CAKE BATTER
1 cup finely chopped pecans
3 cups all-purpose flour
1 cup granulated sugar
1 cup firmly packed light brown sugar
2 tsp ground cinnamon
1 tsp salt
1 tspn baking soda
1 tsp ground nutmeg
1/2 tsp ground allspice
3 large eggs, lightly beaten
3/4 cup canola oil
3/4 cup applesauce
1 tsp vanilla extract
3 cups peeled and finely chopped Granny Smith apples (about 1 1/2 lb. or 5 average sized)
PRALINE FROSTING
1/2 cup firmly packed light brown sugar
1/4 cup butter
3 TBSP milk
1 tsp vanilla extract
1 cup powdered sugar, sifted
Prepare Filling: Beat first 3 ingredients at medium speed with an electric mixer until blended and smooth. Add egg, flour, and vanilla; beat just until blended.
Prepare Batter: Preheat oven to 350º. Bake pecans in a shallow pan 8 to 10 minutes or until toasted and fragrant, stirring halfway through. Stir together 3 cups flour and next 7 ingredients in a large bowl; stir in eggs and next 3 ingredients, stirring just until dry ingredients are moistened. Stir in apples and pecans.
Spoon two-thirds of apple mixture into a greased and floured 14-cup Bundt pan. Spoon Cream Cheese Filling over apple mixture, leaving a 1-inch border around edges of pan. Swirl filling through apple mixture using a paring knife. Spoon remaining apple mixture over Cream Cheese Filling.
Bake at 350º for 1 hour to 1 hour and 15 minutes or until a long wooden pick inserted in center comes out clean. Cool cake in pan on a wire rack 15 minutes; remove from pan to wire rack, and cool completely (about 2 hours).
Prepare Frosting: Bring 1/2 cup brown sugar, 1/4 cup butter, and 3 Tbsp. milk to a boil in a 2-qt. saucepan over medium heat, whisking constantly; boil 1 minute, whisking constantly. Remove from heat; stir in vanilla. Gradually whisk in powdered sugar until smooth; stir gently 3 to 5 minutes or until mixture begins to cool and thickens slightly. Pour immediately over cooled cake.
______________________
A few of our favorite apple or praline related recipes:
*
Caramel Apple Cheesecake
*
Apple Pie Muffins
*
Crockpot Applesauce
*
Apple Raisin Relish
*
Joey's Apple Pie
*
Baked Apples
*
Cinnamon Apples
*
Katie's Applesauce Walnut Cake
*
Praline Apple Bread
*
Individual Apple Cobblers
*
Apple Strudel Muffins
*
Country Apple Dumplings
*
Curried Butternut Squash and Apple Soup
*
Tuna Waldorf Salad
*
NOLA Praw-leens :)
Related posts:
*
Millstone Creek Apple Orchard, Pt. One
, Ramseur, NC
*
Last of Millstone Creek
*
Return to Ramseur
Sorry to anyone seeing this image twice.
A Buckeye butterfly landed on a cream colored coneflower on our back deck, near some extra tomato plants. The coneflower was a gift from my dad and I haven't had a chance to plant it yet.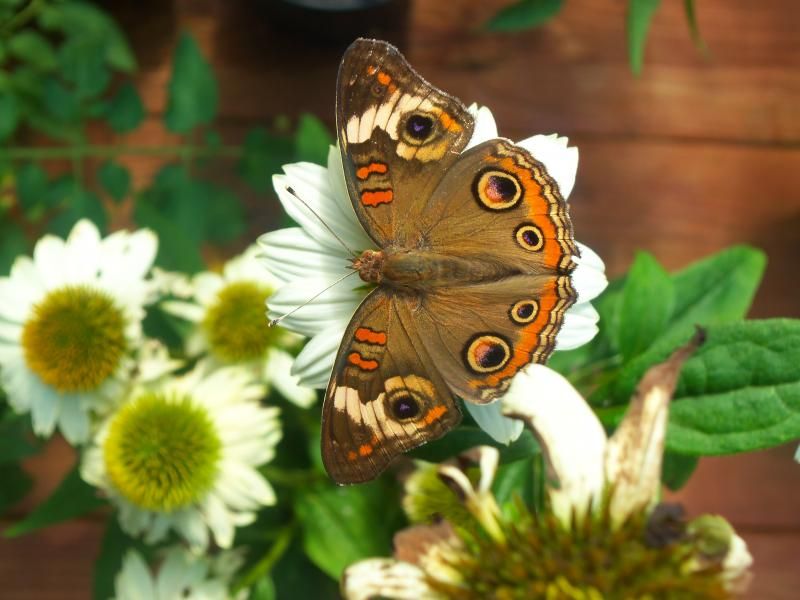 Related posts:
*
The Monarch Will Be Crowned
*
Eastern Tiger Swallowtail
*
American Lady
*
Variegated Fritillary
*
Magic Wings Butterfly House #1
*
Magic Wings Butterfly House #2
*
More Butterflies
*
Silver Lining (Red Spotted Purple/Red Admiral)
*
American Lady/Painted Lady
*
Brochure Butterfly
*
Tree Butterfly
*
Stoke's Aster
*
Pearl Crescent
*
Zebra Swallowtail
*
Greenhouse Butterfly
*
Great Spangled Frittilary
*
Another Buckeye
We went to a friend's house recently and this is what we brought, minus the breading on the chicken. Oh, and we did mixed herbed greens in addition to Romaine hearts. Dressing was lovely and light. As written, it serves 2.
Additional notes: I rendered off my bacon and cooked the large chicken breasts in the same pan, allowing them to color and cook through. Once finished, I rested them for nearly an hour before slicing. Herbs de Provence is sold in the spice section of most major grocers. It commonly contains savory, marjoram, rosemary, thyme and oregano. Will try to link to my sugared pecans recipe in a little while.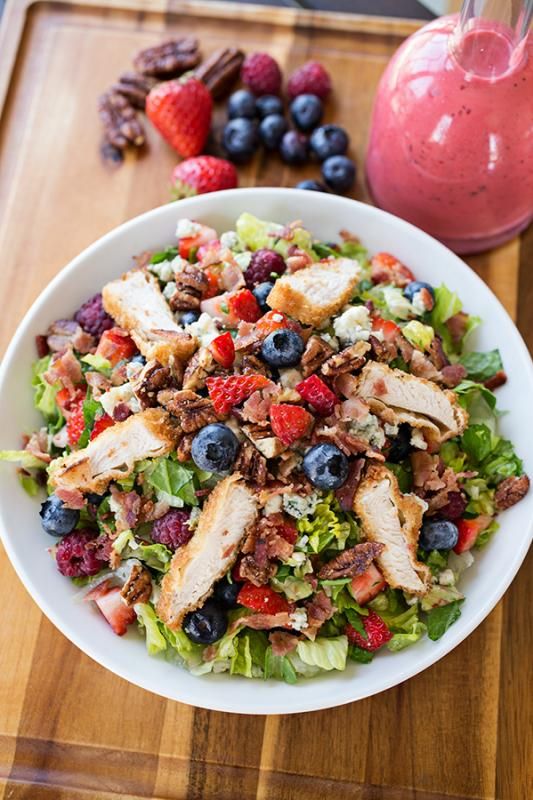 Credit: The Cozy Apron
2 skinless, boneless chicken breasts, sliced in half lengthwise if breading
Salt
Black pepper
½ cup flour
1 egg, whisked with a tablespoon of water
½ cup panko breadcrumbs
Canola or vegetable oil, for frying
2 romaine hearts, chopped finely
6 large strawberries, hulled and diced
3 ounces (½ container) raspberries
¼ cup blueberries
½ cup blue cheese crumbles
4 strips crispy bacon, chopped
¼ cup candied pecans, chopped
Red Berry Dressing (recipe below)
Prepare your chicken breasts by sprinkling on a pinch or two of salt and pepper, and toss to coat. To coat and fry the chicken, dip each piece in the flour and shake off any excess; dip into the whisked eggs, then press into the panko breadcrumbs, and set aside.
Add enough oil into a medium-large non-stick pan to coat the bottom, about ¼", and heat; once the oil is hot, add the coated chicken in and lightly fry for about 2-4 minutes per side on medium-high heat, or until golden-brown and crispy, and cooked through; slice into strips and set aside to keep warm.
To serve, combine the romaine with the remainder of the ingredients up to and including the candied pecans, and lightly toss to combine; add the salad to bowls or plates, then drizzle with as much of the Red Berry Vinaigrette as you like, and top each with an equal portion of the crispy chicken strips.
Red Berry Dressing
(we added additional honey and raspberries, and reduced the vinegar, which is not reflected below)
3 ounces raspberries (the other half of the container from the salad)
4 large strawberries, hulled and roughly chopped
¼ cup red wine vinegar
3 ½ tablespoons honey
1 teaspoon herbs de Provence
½ teaspoon salt
¼ teaspoon black pepper
¾ cup canola oil
Add the raspberries, the strawberries and the red wine vinegar to the bowl of a food processor, and process until it becomes a smooth and liquid puree; strain the mixture into a clean bowl to remove the seeds (you will have about ¾ cup worth); clean out your processor.
Add the strained berry/vinegar mixture back into the clean food processor, along with the remainder of the ingredients up to and including the black pepper, and process until combined; with the processor running, drizzle in the oil and process until well blended and emulsified. Use immediately, or keep covered and refrigerated for up to 24 hours.
Related posts:
*
Grilled Caribbean Salad
*
Summer Grilled Chicken and Fruit Salad with Orange Raspberry Vinaigrette
*
Pecan Crusted Chicken Salad
*
Arugula Skirt Steak with Caramelized Pears, Pecans and Gorgonzola
I have my suspicions that Wilber's has changed very little since the day it opened in 1962. Inside the sprawling brick building is a bustling take out counter. Beyond that are knotty-pine paneled walls and red-checkered tablecloths. If you were to walk behind the building, you'd see splits of live oak and a squat pit billowing fragrant clouds from the hickory coals. On a busy holiday weekend, they are said to turn out up to 130 whole hogs, in twelve-hour intervals.
As with most of the Eastern joints, the focus is on the Holy Trinity of North Carolina barbecue--pulled pork, coleslaw and corn sticks (a variant on hush puppies). The meat is moist, perfumed with smoke, and anointed lightly with vinegar and red chile flakes. Unlike many of the places we've been to, they also incorporate tiny bits of 'outside brown', which is the rendered, crisp, crackling of skin. Coleslaw is finely chopped, nearly lacy, and nicely tempers the sweetness of the potato salad.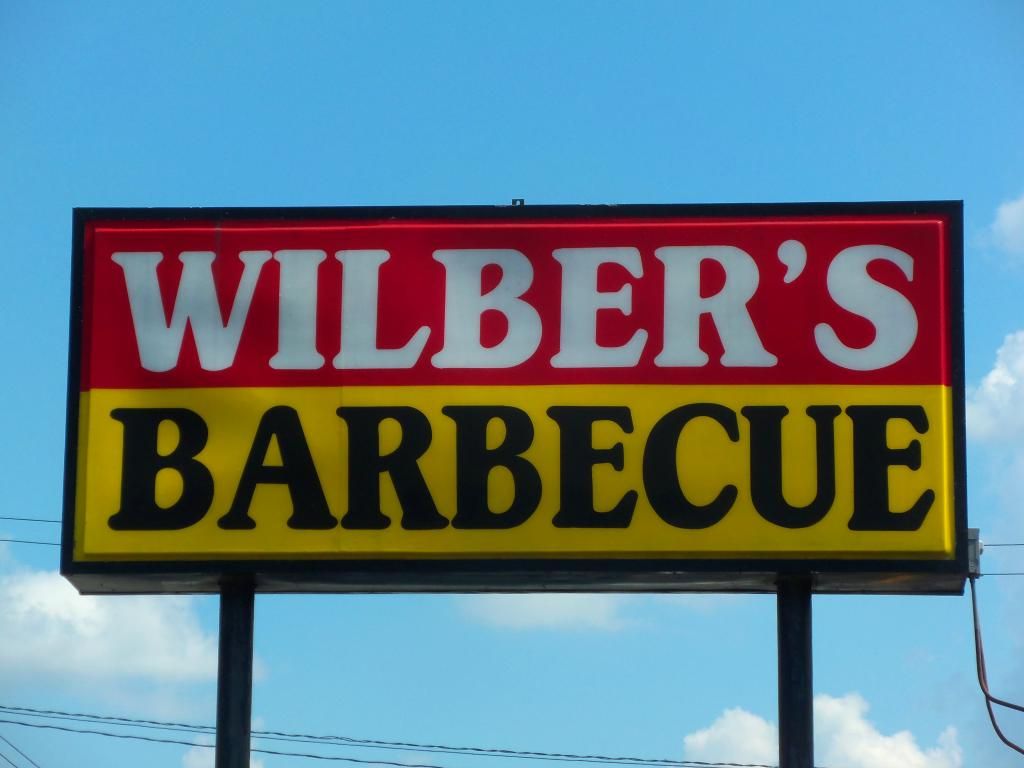 On each table is a small cruet of thin vinegar sauce, but you can also request the house made stuff. I will caution you that the house sauce is underscored with the brutal sting of black pepper. Too much and it will leave you coughing and sputtering, lunging for your sweet tea. Trust me, I speak from experience.
Plates are $9.75 and include a larger portion with potato salad. Trays, which is what I had, are $6.50. Daily specials include entrée, choices of two vegetables, dessert and drink for one flat fee. The day we visited they featured pork chops, $8.00 for the meal. Also on the menu is barbecue chicken, Brunswick stew, livers and gizzards, ham steaks, fish, shrimp, oysters and a small selection of sandwiches.
Pass on the pie--it's sourced elsewhere--and instead indulge in the silky banana pudding ($1.50) to finish your meal. D spooned his with reverence, said it was just like his mommas.
On our way home.......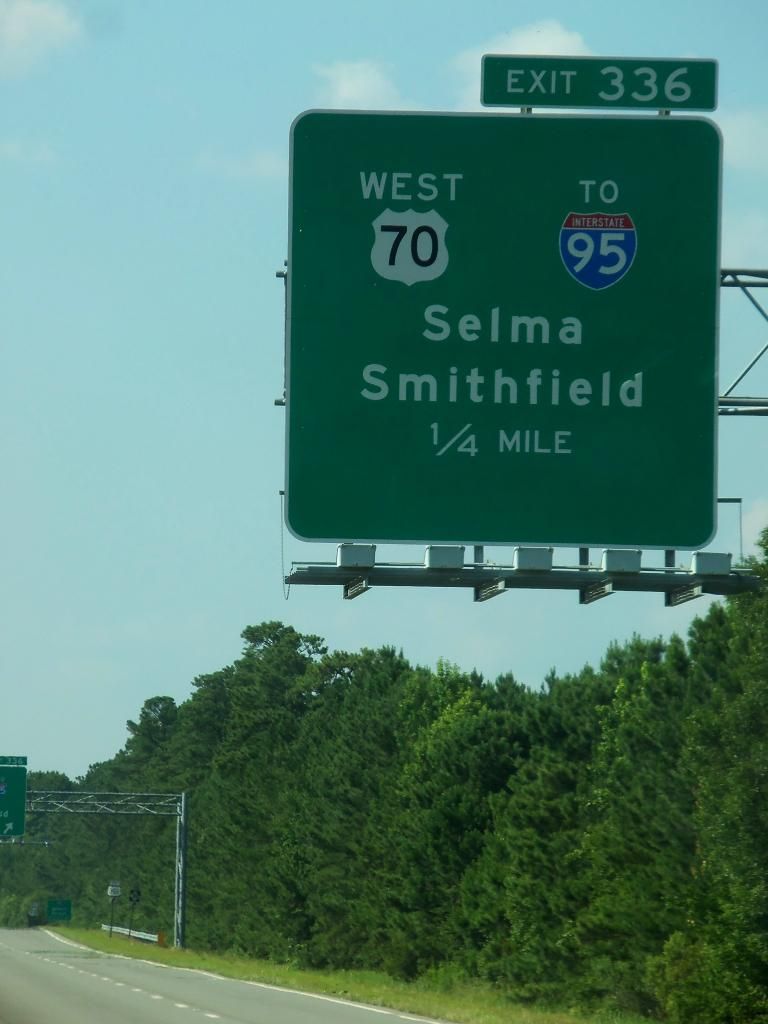 4172 U.S. 70, Goldsboro
(919) 778-5218
Related posts:
*
White Swan
, Wilson's Mills
*
Holt Lake Bar-B-Que & Seafood
, Smithfield
*
Doug Sauls' BBQ & Seafood
, Nashville, NC
*
Casey's Buffet, Barbecue and Home Cookin'
, Wilmington
*
Parker's BBQ
, Wilson
*
Amazingly Good 'Cue
(<--our go to recipe)
*
Alabama Chicken with White BBQ Sauce
*
Recent Reads: North Carolina Barbecue, Flavored by Time
Not recommended is Chapel Hill's Allen & Sons
Made tonight. Served with vanilla ice cream. We liked this. It had a very true, clean taste. My only complaint is that even allowing for an hour out of the oven, it didn't set as I'd like to...remained loose and didn't make for a clean cut.
In our house a 'do over' refers to a dish we might like to have again. As in I'll ask Darryl, "So is this a do over?" His reply for tonight was, "A mandatory do over." :)
Credit: Land O' Lakes
3/4 cup white sugar
5 TBSP cornstarch
1/4 tsp salt
1/2 tsp ground cinnamon
2 TBSP lemon juice
4 cups fresh blueberries
1 TBSP butter
1 egg, divided
1 recipe pastry for a 9" double crust pie
Preheat oven to 375. Prick pie bottom and side of unbaked pie crust with fork in several places. Moisten pastry brush with egg white only and brush on crust. Discard any unusued egg white or use it for another recipe. Bake pie crust bottom for 10 minutes and remove from oven.
While pie bottom is baking, mix sugar, cornstarch, salt, cinnamon and lemon juice. Pour over blueberries and mix through. Spoon blueberry mixture into partially baked crust and dot with butter.
Cover with remaining pastry and flute or crimp edges. Cut decorative slits in top of crust. Bake until top of pie is golden brown. Take care to watch the pie edges and cover with small strips of aluminum foil if they begin to brown too quickly.